The Indonesian Journal of Biotechnology (IJBiotech) is an open access, peer-reviewed, multidisciplinary journal dedicated to the publication of novel research in all aspects of biotechnology, with particular attention paid to the exploration and development of natural products derived from tropical—and especially Indonesian—biodiversity. IJBiotech is published biannually and accepts original research articles featuring well-designed studies with clearly analyzed and logically interpreted results. A strong preference is given to research that has the potential to make significant contributions to both the field of biotechnology and society in general.
We invite authors to submit articles in the fields of food and agricultural biotechnology, health and medical biotechnology, biomaterials, environmental biotechnology, industrial biotechnology, bioinformatics, genomics, transcriptomics, proteomics, and metabolomics.
IJBiotech is published by the the Research Center for Biotechnology in collaboration with the Graduate School of Universitas Gadjah Mada, and is nationally accredited by the Directorate General of Research and Development of the Ministry of Research, Technology, and Higher Education, Republic of Indonesia, Decree No. 21/E/KPT/2018, valid until 2023.
Submitting to the journal
IJBiotech uses an online submission and peer review platform, which allows authors to track the progress of their manuscript and enables shorter processing times. Only submissions made through this platform are accepted, with submitting authors required to create an IJBiotech account. Manuscripts submitted by any other means are automatically discarded.
For more information on our submission system, please refer to the Submission Guidelines. Authors can also download the IJBiotech author pack containing an article template, CSE citation guide, and author guidelines.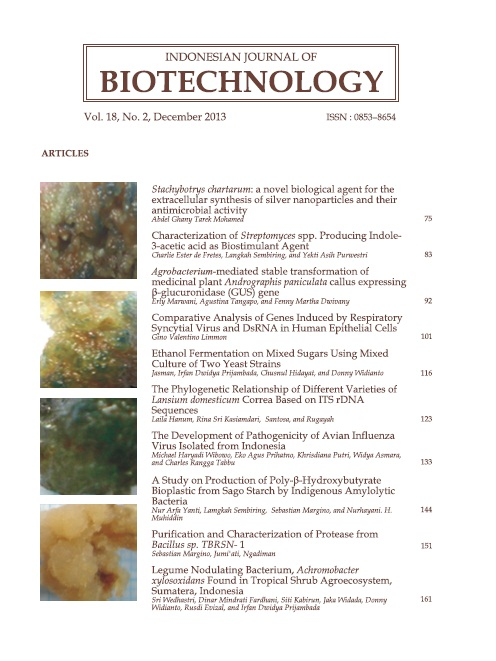 Announcements
IJBiotech finds its way into the DOAJ

If you peruse the Directory of Open Access Journals (DOAJ) website, you might be surprised to find a certain publication hiding amongst the other biotechnology journals. In fact, it's true! We're happy to announce that, as of 16 September 2018, IJBiotech is indexed in the DOAJ.

While the main aim of many indexing services is to create a database of exemplary journals, the DOAJ provides the unique benefit of highlighting the journals that are dedicated to both the free flow of scientific knowledge and transparency in editorial practices.

Not only are readers of IJBiotech able to read any article free of charge, but they are free to share and adapt these articles, promoting the research therein or using it to inform their own research. Authors, meanwhile, hold the copyright of their articles, as well as its publishing rights, enabling them to redistribute their paper in any manner they desire or to deposit it into any archive or institutional respository without restrictions. This policy is part of our commitment to helping the field of biotechnology deliver on its promises to humanity, in aiding the development of new medicines, in increasing food security, in treating waste and reducing pollution, and much, much more.

We are steadfast in our belief in the ethical responsibilities of scholarly publications to readers, authors, and the greater scientific community, and we're proud to see our journal in the DOAJ.

Posted: 2018-09-20

It's a bird, it's a plane, it's IJBiotech in Scopus!

We're pleased to announce that IJBiotech has been accepted for inclusion in the Scopus database, effective 16 June 2018. Within the next three months, we will begin the indexing process, following which you will be able to find the journal on the Scopus website.

We view this in part as a validation of our continued efforts to develop IJBiotech into the ideal platform for the publication of novel studies in biotechnology, particularly those originating from Indonesia, which will always be an ongoing process of self-evaluation and refinement. As such, this marks an important step in the progress of our journal. While inclusion in Scopus can serve as an indicator of a journal's quality, it should not be the goal of any publisher, but rather inspire them to work even harder to maintain the trust readers place in them.

What this decision ultimately means for IJBiotech is that we will seek to serve our readers with even better content, and will strive to ensure that IJBiotech lives up to the greater responsibilities that come with being indexed in Scopus.

Posted: 2018-06-22

Follow IJBiotech on Twitter

IJBiotech is now on Twitter! Follow the journal at @IJBiotech to keep up with news and updates, engage with us on issues in biotechnology, or to get in touch with us regarding your submission.
Posted: 2018-06-18
Vol 24, No 2 (2019): In Press
Table of Contents
Articles
P Swarnalatha, V Venkataravanappa, C N Lakshminarayana Reddy, M Sunil Kumar, M Krishna Reddy

10.22146/ijbiotech.49939

Abstract views : 82 |

views : 38
Agus Budi Setiawan, Ari Wibowo, Chee How Teo, Shinji Kikuchi, Takato Koba

10.22146/ijbiotech.51726

Abstract views : 85 |

views : 52
Fenny M Dwivany, Rizkita R Esyanti, Veinardi Suendo, Aksarani 'Sa Pratiwi, Annisa A Putri

10.22146/ijbiotech.51718

Abstract views : 65 |

views : 43
Rumiyati Rumiyati, Sismindari Sismindari, Endang Semiarti, Sitarina Widyarani, Dewi Tika Sari, Brilliant Kharisma Apritadila, Anami Riastri

10.22146/ijbiotech.51734

Abstract views : 12 |

views : 1
Asmini Budiani, Imam Bagus Nugroho, Dini Astika Sari, Inez Palupi, Riza Arief Putranto

10.22146/ijbiotech.52170

Abstract views : 60 |

views : 7
Edvan Arifsaputra Suherman, Maelita Ramdani Moeis, Elvi Restiawaty

10.22146/ijbiotech.48272

Abstract views : 10 |

views : 1